Your Country
If you haven't ever tried it, you need to try it. If you aren't regularly including it in your weekly menu, you should, so get yourself off to the supermarket or local store and read on…
As a performance nutritionist, I work with elite athletes and teams in Rugby League, Rugby Union, Boxing, Athletics, Taekwondo athletes competing in the Olympic games, as well as amateur and recreational sportsmen and women with an interest in Health and Nutrition.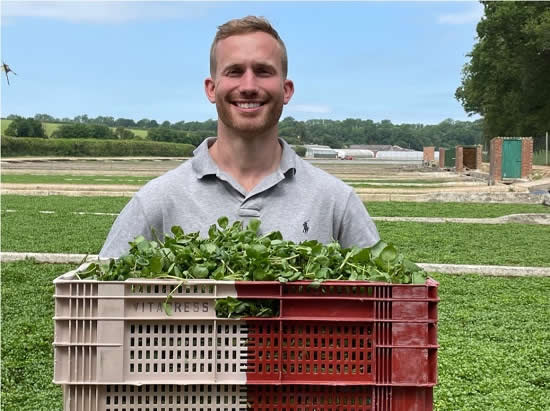 https://www.stevesleaves.co.uk/watercress
Ed Tooley believes in a 'Food First' strategy for nutrition. Watercress has been recognized for its benefits since early times.  It was used by the ancient Greeks Persians and Romans who praised its medicinal virtues and often used it as a fortifier to keep their troops healthy – so why don't we..?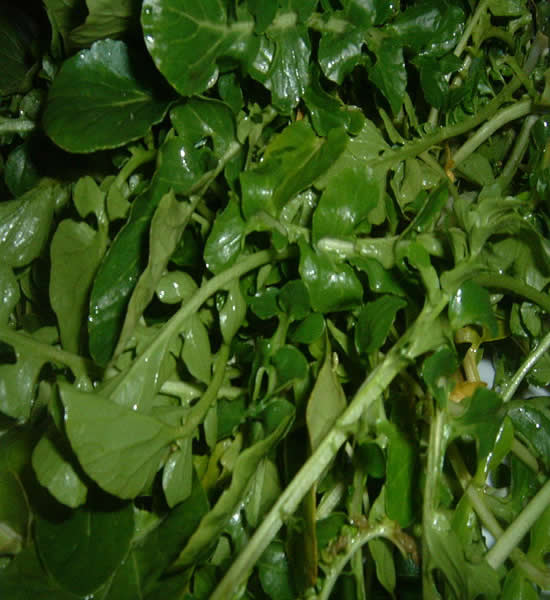 https://en.wikipedia.org/wiki/File:Watercress_(2).JPG
Watercress           Photo Credit: Wikipedia
Health Benefits of Watercress
The most nutrient dense of all vegetables;
Ranks top of the plants on the antidepressant food scale;
High in Vitamin A and Vitamin C - Source of Thiamine (Vitamin B1), B6, Folate, Potassium, Chloride, Potassium, Manganese, Calcium;
Contributes to normal psychological function - Folate, Thiamine, Vitamin B6 & Vitamin C;
Supports the immune system - Folate, Vitamin A, Vitamin B6 and Vitamin C;
Reduces tiredness and fatigue - Folate, Vitamin B6 and Vitamin C;
Promotes healthy hair and skin - Vitamin A contributes to the maintenance of normal skin and normal vision. Manganese and Vitamin C contribute to the protection of cells from oxidative stress;
Gut health: Calcium contributes to the normal function of digestive enzymes;
Thiamine Normalizes blood pressure and contributes to function of the heart.
When it comes to performance nutrition and sport, many automatically think what pill or potion can they take to help improve their performance or recovery, but a huge aspect of performance nutrition is making sure that individuals get the macro- and micro- nutrients the require to fuel, recovery, and stay healthy.
Macro nutrients refer to the nutrients that our bodies require in large amounts, i.e. protein, fats and carbs. Micronutrients on the other hand are vitamins and minerals that our body needs to function and to do things like boost our immune system and fight illness. And when we discuss these macro- and micro- nutrients, where possible, we should get them from a variety of fresh foods. The author encourages his athletes and clients to enjoy their food using a wide array of fresh ingredients. Some key ingredients that he will try to include in meals and recipes contain a group of foods referred to as 'Super Foods'.  
Super foods will vary depending on who you ask, but by definition they are foods that have a very high nutritional density. Most people have heard of blueberries, or spinach being superfoods etc., but not many have heard of Watercress.
The author was originally from Hampshire so grew up seeing the watercress farms up the Meon Valley. However, watercress wasn't widely available in the supermarkets like it is these days, so he very rarely got to try it.  Also, people weren't as adventurous with their cooking and didn't have recipes at our fingertips like we do nowadays with search engines and social media.
A massive factor for well is that it tastes great; even if meals are geared towards a certain performance goal or weight loss goal etc., it shouldn't be boring and unenjoyable, food isn't just a tool, it should be an enjoyable experience. Watercress has a strong peppery taste that really adds to many dishes. There are some delicious and nutritious recipes from Flora's Kitchen:   https://www.stevesleaves.co.uk/watercress  
The author's final point of the day before you go off and add watercress to your shopping list, is that watercress is not only nutritious but part of the WWF Future 50 Foods which is aimed towards healthier people and a healthier planet. 
Other Watercress Facts:
Chalk streams are spring fed and our watercress is grown in mineral rich spring water which is at a constant 11°C.
Watercress was named as one of the Future 50 Foods: a report by WWF & Knorr detailing plant-based foods that can boost the nutritional value of meals while reducing the environmental impact of food supply (Feb 2019)
465-424 BC: Artaxerxes, the king of Persia (Iran today), loved watercress and ordered his soldiers to eat this cruciferous greenery to keep them healthy during their long marches.
460BC – 370BC: Hippocrates, the father of medicine, is said to have deliberately located his first hospital beside a stream so that he could grow a plentiful supply of watercress with which to treat his patients.
27 BC – 476 AD Romans called it "nasturtium" which means "twisted nose" and believed it helped them excel in combat
450 – 1066: Anglo Saxons ate it to prevent baldness
1904: Eliza James, known as the Watercress Queen, sold 50 tonnes a week to London's restaurant trade from her vast watercress beds in Hampshire and Surrey. Originally street sellers would buy watercress from the market and add their own value to it by forming it into bunches. In those days, bunches were handheld and eaten ice-cream cone style. Eliza created the beds at St Mary Bourne, now owned by Vitacress
Further Information
The Steve's Leaves range – a registered brand of Vitacress Salads Ltd – is available from Waitrose, Ocado, Booths and selected Co-op stores at Recommended Retail Price of £1.40*. For more information visit https://www.stevesleaves.co.uk/  
Comments:
No Article Comments available
Post Your Comments: