Your Country
To demonstrate that EFT (Emotional Freedom Techniques) techniques are being taken seriously there is now an EFT International Level 2 Practitioner training for therapists, counsellors, social workers and others in the helping professions who wish to add these tools to their repertoire. Evidence is increasing to demonstrate that using EFT is an effective and low cost method for stress reduction. 
Traditionally EFT has been used as a simple self-help tool to release anxiety in stressful situations.   It can dramatically relieve emotional issues resulting from past events (trauma and loss) as well as ongoing situations (stress, anxiety).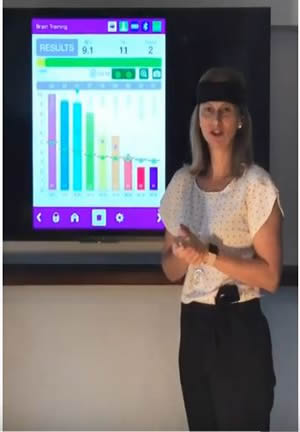 Dr Peta Stapleton Wearing EEG FocusBand
This video outlines a wearable EEG band (FocusBand) that has allowed users to measure brain wave activity - during EFT tapping! It is being used in EFT clinical trials - Dr Peta Stapleton, seen wearing the headgear, is a Psychologist and leading EFT researcher and associate professor at Bond University in Australia.  Here she is demonstrating how her EEG brain activity changes as she taps on the acupressure points.
 https://www.youtube.com/watch?v=G3hd7XEEL7s
The focus band is used as a neurofeedback mechanism to train anxiety sufferers to calm their brain. The focus band Peta is wearing picks up her brainwaves as she taps on individual acupressure points.  The coloured bars on the screen behind her represent her brainwave levels the headgear is picking up.  What she is doing is using the band as a neurofeedback loop to tap and watch her brainwaves come down into a calm state as she goes through an EFT tapping round. 
Researchers are able to teach people wearing the headbands how to experience and have more control over what a calm emotional state feels like.  So in the same way that professional athletes can practise being in their best peak mental state for teeing off at a golf tournament, volunteers using the tapping techniques and wearing the headband can experience how to control their theta waves in order to move from feeling anxious to being calm.
The EFT process consists of tapping on a series of acupressure points whilst repeating phrases. Tapping on the acupressure points has a profound effect on the body's physiological system. Through measuring the stress hormones using saliva swabs or blood testing it was found that cortisol levels decrease as we tap on the points, gradually our delta waves lower and we become calmer and more focused.
We tap on acupressure points, mainly on the face.  The rhythmic tapping acts by calming and influencing the processing of stressful events at the limbic system and midbrain levels similarly to the way that EMDR (eye movement Desensitization and Reprocessing) works.
Tapping can't stop pain but it can lessen the anxiety and emotional intensity felt around experiencing the pain. E.g. "My Back hurts and I want to go to the bathroom, and if I get up to go I will be in even more pain" keeps us rooted to the spot so that we don't want to move. So we tap on the acupressure points on the face, hands, or breastbone associated with the thoughts to lessen the emotional intensity we carry;
EFT tapping can help us think an idea through.
We elicit what the main elements of the client's anxious feelings are in a gentle way. The goal might be a problem solving exercise to help the client disburse anxiety and clarify her aims.  Then choose a brief target set up statement phrase and repeat it.
Even though I have this feeling …… I ACCEPT myself.
So the client is feeling "I am not accepted" (by my partner's parents), after going through a round of tapping, they may chance the statement to "it is unfair".  We tap on the acupressure points again as we say the new phrase "unfair" and the aspect changes.  An image may come to mind of being in the playground in school wearing gym clothes, accompanied by the thought "it feels similar to school days", and the image (seeing her as being excluded from more popular girls' groups.) The client's aspect changes to a feeling 'it's sad that they won't accept me" and we tap on that statement. Once the intensity of emotions is lowered or gone we can reflect on what if anything is different now.     
In less than 10 minutes client has moved through feelings of:
"I am not accepted" a perception
to "it is unfair" a belief
accompanied by a feeling of sadness which triggers
an image of being in the playground in school
And a thought, 'it feels similar to school days', and
as the image and thought changed, the feeling changed to "sadness"
Then we ask client to tell the story to ascertain where she is now. 
For many people the emotional intensity of the feeling reduces with each round of tapping until in some cases only the image is left.  At this point a new thought or feeling is likely to pop up to take its place. 
If there is a cognitive shift the client may rearrange their thoughts so they are no longer stuck and they get to a new phase in their thinking:  I accept myself and the situation so I can move on with my life...  I would like them to like me but accept it may not happen…  I don't have to like it… but I accept it so I can move on with my life...  
Reactions to Stored Memories
We have all experienced memories that were not pleasant and we dismiss them and move on. Our ability to cope with difficult experiences varies; some people may be traumatised by an event that someone else shrugs off.
Re-experiencing the unpleasant memory may cause a person to feel threatened and the amygdala triggers an alarm in response to the perceived threat.  The alarm causes the hormone cortisol to be released.  Cortisol interrupts the flow of information to the next part of the limbic system the hippocampus. 
Often when we feel anxious our brain cannot process the high level of intensity we feel around the experience. We can feel overwhelmed. Each time we relive the experience it feels as if it is happening in front of us now, instead of 20 years ago;  but if we can't process the memory we can't lessen the intensity of how we feel about it.  We respond with simplified reflex patterns i.e. fight, flight, or freeze.
Tapping works to release the emotional intensity.  After tapping on the acupuncture points people often say "I still have the memory, but now there is no emotional charge around it.  The intensity of the feeling has gone".
EFT is a useful self-help tool and thousands of amateur users are happy to stop at the level 1 beginners point when they have some portable EFT skills that they can use when they feel anxious or upset and need to regain a calm state of mind. 
The new applied EFT Practitioner level 2 courses offer an opportunity for experienced therapists, counsellors and coaches in the UK to use the tools as an adjunct which can be integrated simply and effectively into their existing skills set. In my CBT therapy and NLP Coaching practice I find that the EFT techniques blend effortlessly and could be used as a core therapeutic tool. EFT techniques help clients to slice a problem finely and reach points of clarity and perception, in their journey from anxiety to calm and focused, that tools from other therapies don't reach.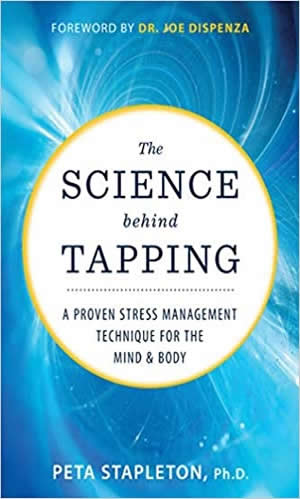 https://www.amazon.co.uk/Science-Behind-Tapping-Management-Technique/dp/1401955738
About Dr Peta Stapleton
Dr Peta Stapleton is a Psychologist and EFT researcher and associate professor at Bond University in Australia.  Her book The Science behind Tapping brings together the history and latest research on EFT alongside client experiences.
EFT Courses
In the UK, Andy Hunt runs level 1 training for beginners who want to use it simply for self-help.  Also Level 2 training intended for those who are already experienced helping professionals. www.practicalwellbeing.co.uk
Retired Metropolitan Police Officer, Ben Lacey runs applied EFT Level 2 practitioner for experienced professionals.  key2empowerment.co.uk/ .  Peter and Tamara Donn run a Fast Track Professional and Personal Development Programme for Level 2 students and practitioners. info@eft-courses.org.uk
Further Information
If you would like to experience a group introduction to EFT I am running some regular tapping sessions and Q+As on zoom (BST times).  E-mail info@francescoombes.com
Comments:
No Article Comments available
Post Your Comments: