Your Country

The Oratio Project - A New Model of Monasticism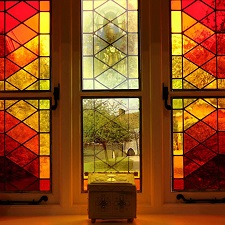 Start Date

Ongoing

Company

Ecclesiastica Celtica - Order of Dionysis & Paul

Contact

Allan Armstrong

Telephone Number

07770 810941

Email

Website

Other Website
The Oratio Project - A New Model of Monasticism
Help us build a spiritual house - a Sanctuary of Peace that will facilitate a new model of monasticism consisting of men and Women living the contemplative life whilst dwelling in the secular world - a way of life  that focuses upon unfolding our spiritual potential in the presence of God. The 'new model' of monasticism is neither new nor is it a radical departure from what we already know; but it is revolutionary – indeed it always has been – because it is for every living soul the 'natural' option to the perpetual demands of a secular world fuelled by consumerism. It applies equally to all, to young, old, rich or poor, to those who are either pursuing a busy secular career or running a busy household.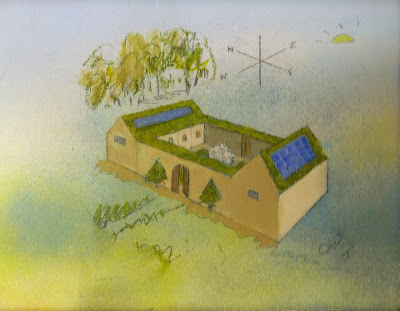 Initial drawing embodying the idea of the Sanctuary of Peace
The Sanctuary of Peace will follow traditional patterns of the ancient British Church and provide the space and opportunity for people following this path to periodically withdraw from the world to spend time in silence, prayer  meditation  and spiritual discourse.
The Order of Dionysis & Paul
The Order of Dionysis & Paul a Christian religious order of men and women based in the West Country of the UK, who have followed this new model of monasticism for more than fifty years, is seeking to raise £150,000 to purchase a site in the West Country on which it can build a Sanctuary of Peace  based upon traditional patterns of the ancient British Church. Although most of the members are working or retired, none of them are high earners, yet they have managed to raise £40,000 through garage sales and other such ventures, and it will continue with such endeavours until it achieves its goal. This will take some time but with your help it will succeed much sooner. 
The monies raised will purchase the land upon which the Sanctuary of Peace can be built; which will be constructed using low-tech, low-impact straw-bale technology, resulting in an organic structure that harmonises with the environment and minimizes the energy used and carbon dioxide generated in its construction. The concept is to have an energy free, self-sustaining building, minimising cost and carbon footprint. This low-tech approach will significantly reduce the amount of energy required to construct the building, and, because of the insulating properties of the materials used, will save energy and minimise carbon dioxide in heating and cooling. Energy will be generated using solar panels for both hot water and electricity.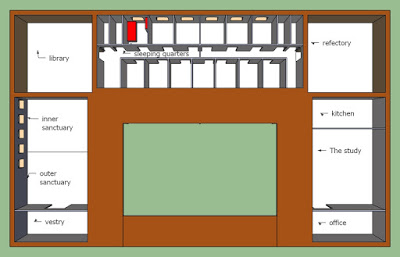 Plan view of the Sanctuary of Peace
Click the following to view the CAD drawings of the envisaged Sanctuary of Peace: Sanctuary of Peace
Key to the Sanctuary of Peace
The Library - A place of quiet, set aside for study & research.
Vestry & Sanctuary (Inner) - A place reserved for the sacred rites.
Sanctuary (Outer) - A place set aside for the teaching of meditation
Sleeping Quarters - For those who have come to spend time in prayer & meditation away from the hustle and bustle of the world, and for Order members who will be in residence to facilitate/oversee the activities of the Sanctuary of Peace.
Refectory & Kitchen - A food preparation area and dining room for those in residence.
The Study - An area for to discussion, seminars and relaxation.
The Office - For the general administration of the Sanctuary of Peace.
Contribute Now - Receive free download of Oratio: Contemporary Celtic Poems 
Contribute to this project and receive a free download of the album Oratio: Contemporary Celtic Poems an album of spiritual poems read by their authors and set to music.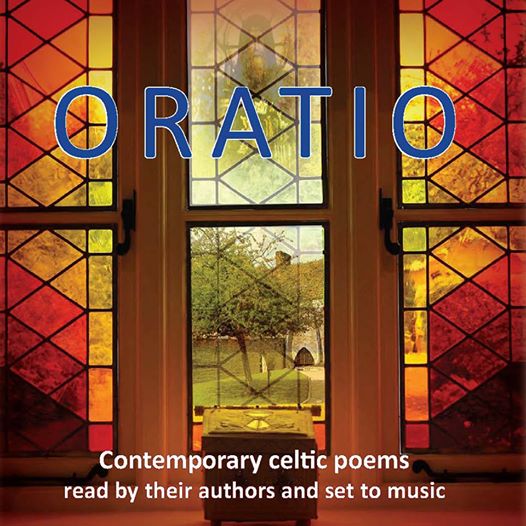 Oratio Celtic Poems
You can hear  samples from this album by visiting digital music stores including iTunes and Amazon: see:
itunes
amazon.co.uk
https://www.amazon.co.uk/Oratio-Contemporary-Order-Dionysis-Paul/dp/B00Q7M1Y1E/ref=sr_1_1?s=dmusic&ie=UTF8&qid=1461958341&sr=1-1-mp3-albums-bar-strip-0&keywords=oratio+contemporary
amazon.com
https://www.amazon.com/gp/product/B00Q7PNIQU?ie=UTF8&keywords=oratio%20contemporary%20celtic&qid=1461958494&ref_=sr_1_1&sr=8-1
Why You Should Help
In supporting this project you will be assisting others to engage with the 'interior life' - the essence of the monastic ideal, which has embodied from its beginning more than seventeen hundred years ago the principle of 'spiritualising' one's life - an objective that is achievable whether we live in the wilderness or in an urban environment.
We have managed to raise £40,000 through garage sales and other such ventures but we do need your help if we are to achieve our objective. 
To contribute to this project click the Donate Button on the Home page, or click the Donate Button below to pay with PayPal.